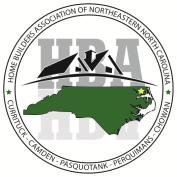 HOME BUILDERS ASSOCIATION
of
NORTHEASTERN NORTH CAROLINA
Supporting and serving our members by providing networking and educational opportunities and advocating progressive growth in our communities.
Contact Info
Home Builders Association
of Northeastern North Carolina
P. O. Box 59
Aydlett, NC 27916
(252) 453-6668
Email: hbaofnenc@gmail.com
CATEGORY: LAND DEVELOPMENT
Camden Square Associates Of NC
Waverly Sawyer
(252) 771-2520
waverly702@gmail.com
Russell Marvin Hurdle Inc.
Marty Hurdle
(252) 337-4557
crawdaddy252@embarqmail.com
(Excavation, Landscaping & land development services)
THANK YOU FOR SPONSORING THE HOME BUILDERS ASSOCIATION OF NORTHEASTERN NORTH CAROLINA